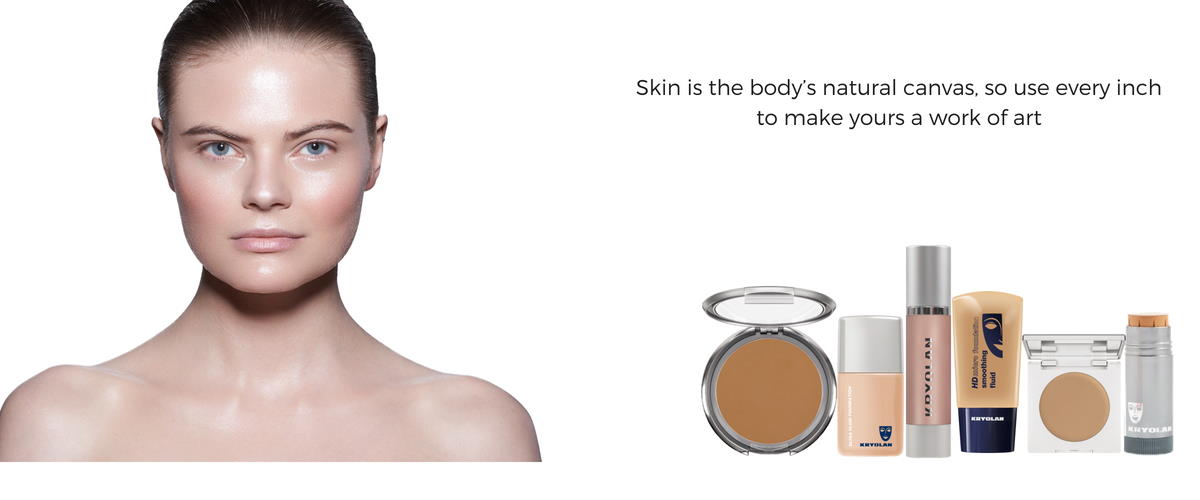 Foundation is one of the most essential parts of your makeup routine. To achieve a flawless base you need to select the right foundation for your skin type and your preferred coverage. With 800 foundation shades ranging from sheer to full coverage we've got you covered.
Kryolan produces the highest-quality, hypoallergenic foundations suitable for even the most sensitive skin types.
Not sure what foundation and colour to purchase in Kryolan foundation range? Try our Colour Matching Samples.

Kryolan TV Paintstick

Looking for a full coverage, long-wearing foundation try our cult-classic TV Paint Stick! This foundation stick sits flawlessly on the skin giving you the perfect completion that you have dreamed of. Light-weight, cream foundation that has the flexibility to provide a minimal to maximum coverage.

Learn More

Vitacolor

HELLO COVERAGE & RELIABILITY! The Vitacolor foundation is a beautiful creamy liquid, full coverage foundation that can be built from minimal to maximum coverage.

Learn More

Kryolan Ultra Foundation 15gr Pot

For a fresh, dewy minimal make-up look try Ultra Cream Foundation. This foundation is great for everything for everyday wear right through to photographic work. Ultra Foundation can also be applied as a minimal foundation to give you ultimate transparency.

Learn More

Kryolan Ultra Foundation Mirror Box

For a fresh, dewy minimal make-up look try Ultra Cream Foundation. This foundation is great for everything for everyday wear right through to photographic work. Ultra Foundation can also be applied as a minimal foundation to give you ultimate transparency.

Learn More

Kryolan Tinted Moisturiser

Hello fresh, natural, minimal make-up lovers. The Tinted Moisturiser is a light coverage foundation that evens out the skin tone, while hydrating the skin to give you a beautiful no make-up radiant glow.

Learn More

Kryolan HD Micro Foundation Smoothing Fluid

For the perfect soft-skin appearance try our HD Smoothing Fluid. Create a beautiful natural and dewy appearance with this foundations high moisturising agents to rehydrate the skin. The perfect light reflector for ulimate HD performance.

Learn More

Kryolan Dual Finish

Dual Finish powder is a make-up game changer. This is a full coverage, satin finish foundation powder. A staple in a make-up kit or to apply as part of your everyday make-up routine. The compact is refillable. It is also available in 6 palettes, perfect addition to any makeup artist kit.

Learn More

Shimmering Event Foundation

GET GLOW-ing! Looking for a soft, radiant and youthful glow... Shimmering Events Foundation is the answer. With it's lux formulation this liquid luminizer, is great for all skin-types, ages and suits a diverse range of skin tones!

 

Learn More

Vitacolor Sample Trio

Unsure of your foundation colors? These samples are designed for color matching purpose. Choose your own 3 small sample colours from our Vitacolor range.

Learn More

Make-up Blend 14ml

Make-up Blend is the ultimate product to help with that flawless base application! Make-up Blend supports the application of any cream product, improves the lasting effect of your make-up and provides a velvety smooth feeling on the skin, leaving a flawless base.

Learn More

Kryolan Make-up Blend 30ml

Make-up Blend is the ultimate product to help with that flawless base application! Make-up Blend supports the application of any cream product, improves the lasting effect of your make-up and provides a velvety smooth feeling on the skin, leaving a flawless base.

Learn More

Kryolan HD Micro Foundation Cache

The best foundation for all HD photography! HD Micro Foundation is a full coverage foundation, with great pigmentation that is suitable for everyday wear right through to your photographic work.

Learn More