A concealer that makes your life a little easier. The Kryolan Concealer contains highly pigmented cream concealer that blends perfectly onto the skin.
The Kryolan Concealer is a highly pigmented, full coverage concealer. The concealer is mineral-oil free with added skin care ingredients to sooth the skin. 
There are 5 shades that include yellow toned concealers, pink toned concealers and neutral toned concealers. Use the yellow tone to hide darkness and purple tones. You can also highlight and brighten when using the concealer.  Use the pink toned concealer to neutralise any blue toned areas, dark spots and scars. Use the neutral tones to counteract any redness or pigmentation. 
BN - Neutralises blue tones in the skin
OH - Neutralises purple tones in the skin
PH - Neutralises brown tones in the skin
RN1 - Neutralises red tones in fair skin
RN2 - Neutralises red tones in deep skin
SYH - Highlights
5g
Cruelty Free
Highly Pigmented
Mineral-oil free 
Long wearing 
Not Drying 
Satin Finish  
For a flawless finish appearance under the eye, use a small blending brush to blend in the product. For Example the Blue Master Small Blending Brush.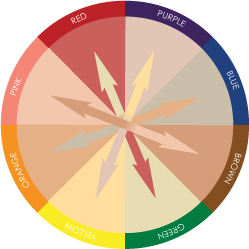 MSDS (300 kB)
We found other products you might like!